It goes without saying that we (and I mean as a country) LOVE tea. The UK has single-handedly been the biggest consumer of tea across the globe for a couple of hundred years.
Mutter the words 'wanna brew?' in the office and you face being stuck in the kitchen filling everyone's bucket-sized Sports Direct cups for days.
For many years, PG Tips has taken the top spot as the UK's favourite tea brand and only at the end of last year was it overtaken by Twinings and Yorkshire Tea.
In the interest of being honest with you, I grew up on PG Tips but as soon as I took control of my shopping list and taste buds I obviously turned to Yorkshire Tea. In my eyes, it's the god tier of tea. Most people in the office agree with me too.
That doesn't mean that PG Tips did not pave the way for every other brand out there. The company pioneered the holy grail of teabag shapes, the pyramid. Which revolutionised the way we made tea and made every cup a proper good brew.
Introduced to an unsuspecting public back in 1996, I'll never forget the day that I discovered the pyramid tea bag and I swear my life changed on that day forever. But I'm sure you already know all this, being the tea aficionado that you are.
What you might not be aware of though is that PG Tips was born in a little Mancunian suburb. Home to the (only) IKEA in Manchester, the birthplace of Jack the Ripper, me and PG Tips - Ashton-under-Lyne.
No tea could really be made from scratch in Manchester, the average temperature of -3000 sort of prohibits that. But the birthplace of 'Pree-Gest-Tee' was indeed Ashton, when Arthur Brooke began his conquest of the tea industry.
Arthur was born into a tea family, being trained by Peek Brothers & Winch before opening up his own tea shop with the slogan...
"Good tea unites good company, exhilarates the spirits, opens the heart, banishes restraint from conversation and promotes happiest purposes of social intercourse." 
Catchy.
Within 3 years he had tea shops in Liverpool, Leeds and Bradford, trading under the 'cool' name Brooke, Bond & Co.
A tea-trade depression in the 1870s saw him move into the wholesale business and take control of his own distribution. It was here, by the salesmen and grocers that the name was shortened to PG.
Believe it or not but the guy behind PG Tips pioneered the 8-hour working day. He also paid higher wages than his competitors and was an early adopter of profit-sharing, giving a 10% staff bonus every year to his 154 employees.
By 1887, 2 million people drank Brooke Bond tea every single day in Britain alone. The company went from strength to strength and Arthur retired in 1910, being succeeded by his son Gerald.
A large factory was purchased in Trafford Park Manchester in 1923 which is still producing the tea to this day. By 1943 Brooke Bond was the largest wholesale tea business in the entire world.
In 1963 Brooke Bond owned 30,000 acres of tea plantations across India, Ceylon and Africa. They sold 6 different brands of tea across 80 countries, including being the market leader in Canada.
To give a little taster to how big Arthur Brookes company got, in 1968 the company acquired the company that owned OXO (and Fray Bentos). The move made it the 6th largest food company in Britain.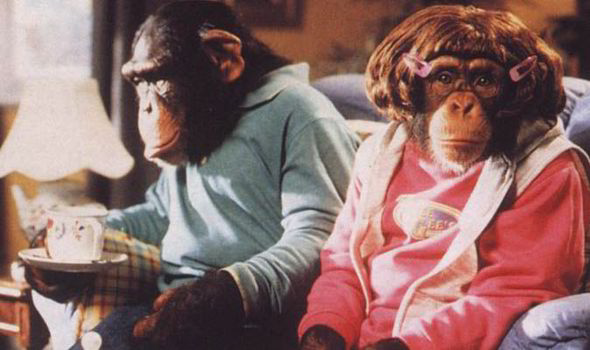 The company had a strong focus on advertising way before any monkeys were involved, with Arthur picking up a few tips from his trip to America way back when.
One campaign included giving a free pound of tea to every customer over the age of 80 for Queen Victoria's 80th Birthday.
It was indeed the chimpanzee advertising campaign that everyone remembers that made PG Tips the brand leader of tea in the UK by 1972.
Like most good things, they have to come to an end and a hostile take over from Unilever happened in 1984 for a mere £389m in cash. But the Trafford Park factory still stands and still ships out PG Tips tea bags all around.
You can visit Arthur Brookes first ever home in Ashton which has now been turned into the Molly Malone's pub. If you look closely you will also see the cheeky little blue plaque he managed to bag himself too.