Books & Magazines…
Pippy Eats Signed Book 
Dumplings and Noodles is Pippy Eat's latest project which explores traditional cooking methods behind some of the best-loved Asian dishes. It's packed full of over 70 recipes from Manchester's answer to a Noodle Queen. Plus, you can pre-order a signed copy when the book is back in stock on December 6th!
iNostalgia
The perfect book for the history lovers in your life, the newest book to iNostalgia's roster is 'The Home Front – Britain 1939-45'. The book examines the wartime resolve of Manchester and the nation, encapsulating the hope rising from the ashes of blitzed cities. You can 25% off when you buy three books from iNostalgia this Christmas. 

Off The Rails magazine
Support Manchester's creatives with Off The Rails Magazine. The 304-page printed book has a 'ridiculous 10-page fold-out cover with red UV detailing and comes with a digital extended version for free'. You can expect a massive list of contributors as well as over 30 stories including a self-shot series by the skaters.
The Noble Rot Book: Wine From Another Galaxy
If you know wine then you'll know Noble Rot and this book is perfect for that certain 'wino' in your life. Authors Dan Keeling and Mark Andrew take you on a journey to celebrate the universe of awe-inspiring wine – basically the definitive guide to tasting, ordering in restaurants, talking about wine (without sounding like a wine bore) and building your own collection.
Brutal North by Simon Phipps
Fans of Modernist and Brutalist architecture will LOVE this new book from photographer Simon Phipps – documenting the wonderful examples you'll find in the North – including plenty in Manchester. You can get the book (plus loads of other modernist clobber) at The Modernist on Port Street in the NQ. Or online.
Apparel…
Caroline Dowsett
Freelance artist, Caroline works in Manchester with bright colourful work inspired by movement, sounds and feelings. You can grab a 2021 calendar to plan a beautiful new year, silk scarves with her prints or plenty of other print to choose from too. There's free Manchester pick up available until December 23rd or if you want to post across the UK get orders in before December 21st. You've also got a little bit of time if you'd like a special custom piece (allow 2-4 weeks lead time depending on size.
Recycled Reversible Scarf from WAWWA
Made using 100% recycled materials in Manchester, with 50% recycled cotton and 50% recycled plastic – this scarf not only looks mega – it's also good for the environment. Oh and it's part of WAWWA's '1+1' Collection – meaning for every scarf purchased, they'll give one to someone less fortunate.
The Manchester Bee Nike Air Force 1
Okay with this one you're going to struggle to get your hands on it, but there might be some on eBay or Stock X now which means you'll be an impressive and seriously rare gift to the trainer lovers in your life. –
Animals in Costume
Using organic and ethically sourced materials, Animals in Costume is the clothing brand from the band Larkins and it's way more than your average tour tee. Each delivery comes in recyclable AIC packaging so it's perfect for those who are trying to be more sustainable this Christmas!
Homeware…
Northern Lights Hamper
Northern Lights will be doing ladies and men's hampers this Christmas, including (I hope) some form of plant for the house – one which you can love and cherish and look after into your waning years. They're also stocking a range of gifts this Christmas too, including candles, soaps, organic chocolates and more.
Form Lifestyle Store
A one-stop-shop for all things minimalist and independent makers. They've got everything homeware including those really popular twisted handmade candles that are doing the rounds on Instagram at the moment. As well as handmade Christmas decorations and a whole range of skincare products like natural deodorant, French clay soap and essential oils.
Frida Cooper
Manchester-based Frida Cooper is a ceramist/maker/creative. You can get handmade one of a kind candlestick holders, plates, incense holders and soap dishes. Drop a DM to see if you've still got time for special commissions!
Clare Palmer
Clare specialises in hand-painted portraits with acrylic and an affinity for bright colours as well as nude acrylic paints. Who doesn't want a hand-painted nudey rudey in their bathroom?? You can even get your very own nude.
Lily Windsor Walker 
Manchester-based print designer Lily has created a whole range of items over the years including collaborating with the likes La Luna Rose Design, Dorte clothing and Bravery co. This year she has launched hand-painted baubles now available on her site. Expect gifts with bright colour and clashing bold patterns.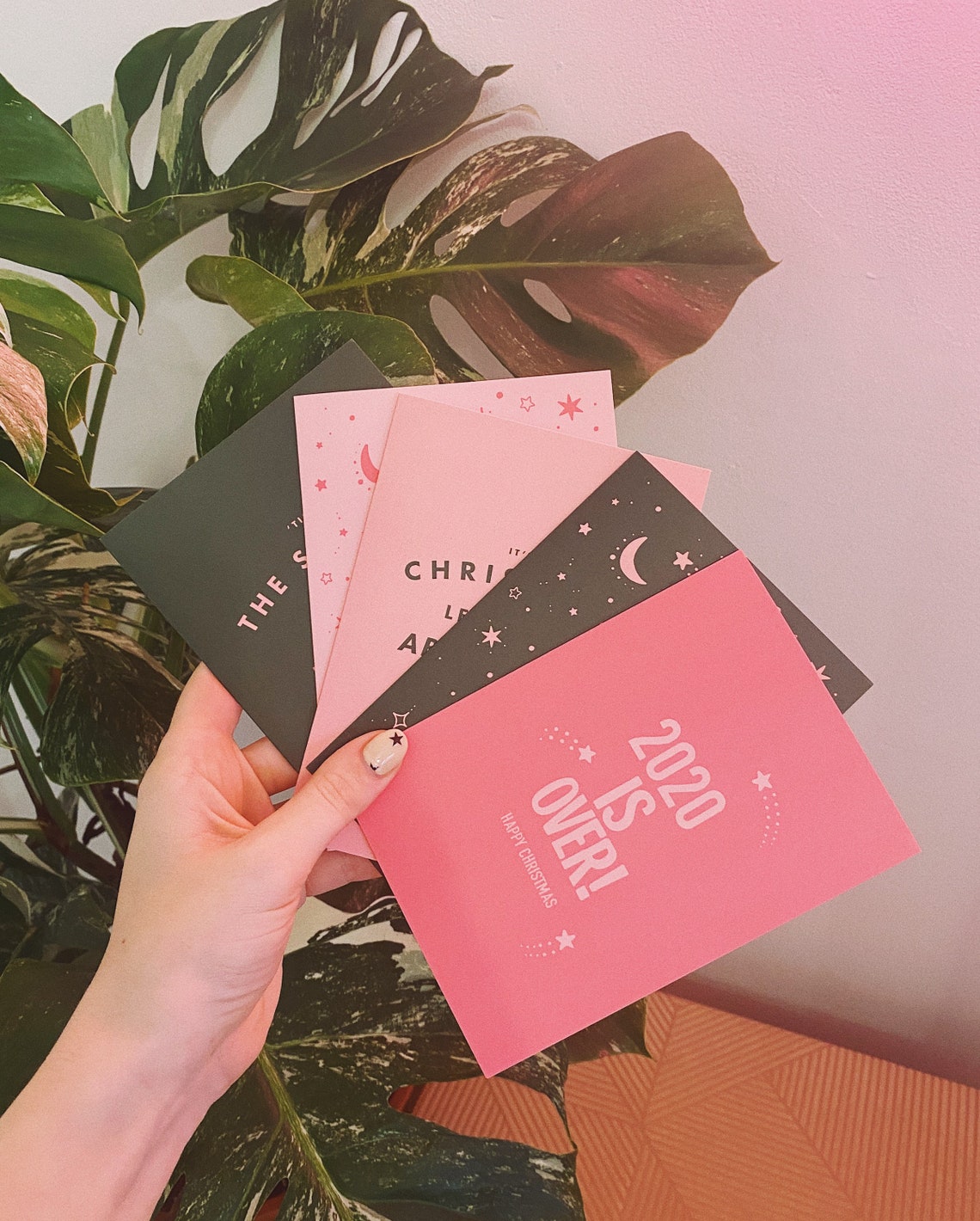 elliebstudio
Get your Christmas cards this year from Manchester-based EllieBStudio. The '2020 is over' card is really calling my name. There's a whole new pink and glittery festive range to choose from!
Adam Pester Photos
Adam has been taking photos of Manchester for the past year but turned to printing his pics and creating his very own Etsy shop throughout lockdown. You can get stunning pictures of some of Manchester's most iconic scenes, including the seriously popular Rainy MCR that got itself turned into a meme.
Fred Aldous
If your loved one is into crafts then this is the shop where you will be able to get anything you need to make 'anything', as they say. There's plenty of craft bits, plus tonnes of quirky books and plenty of unique gifts.
Music…
Wilderness Record Store
Sometimes the best gift is music, and it's even better in physical vinyl form. Wilderness has just about everything you could need for every single one of your loved ones. Plus they've still got some Record Store Day exclusives available online too.
Strategy
One of the best ways to support independent musicians is to BUY THEIR MUSIC (or merch)!! Strategy has released a brand new four-track EP on Bandcamp and you can even choose the 'gift option'. Search for any underground Manchester artists on Bandcamp and see how you can support them this Christmas!