Bundobust
The classic veggie/vegan option in town and now they've even launched their festive menu which is available already. Or you could opt for the vegan combo for two (£25) which features Okra Fries, Bhajis, Bhel Puri, Raghda Pethis and Chole Saag. Bangin. There's also plenty of booze on offer too!
Alvarium & Black Leaf
Back with a brand new winter menu, Black Leaf is back with everything from sticky toffee pudding to aubergine steak and chips. You can also pop down for takeaway pints, mulled wine and wine from their bottle shop at Alvarium.
Eighth Day
The Eighth Day Cafe has a vegan lunchtime menu is available Monday-Saturday from 12pm until 3:30pm plus they have an evening weekend menu available Thursday-Saturday from 4pm to 8pm. You can also shop all Eighth Day natural products like shampoo, supplements and groceries here.
Herbivorous Vegan Street Food
Usually found in Hatch, Herbivorous have relocated to the excellent Stretford Food Hall where you can pop in and pick up some wonderful vegan delights. There's tonnes to choose from with some great burgers, loaded fries and naughty desserts. They're also on UberEats – should you not want to leave the house.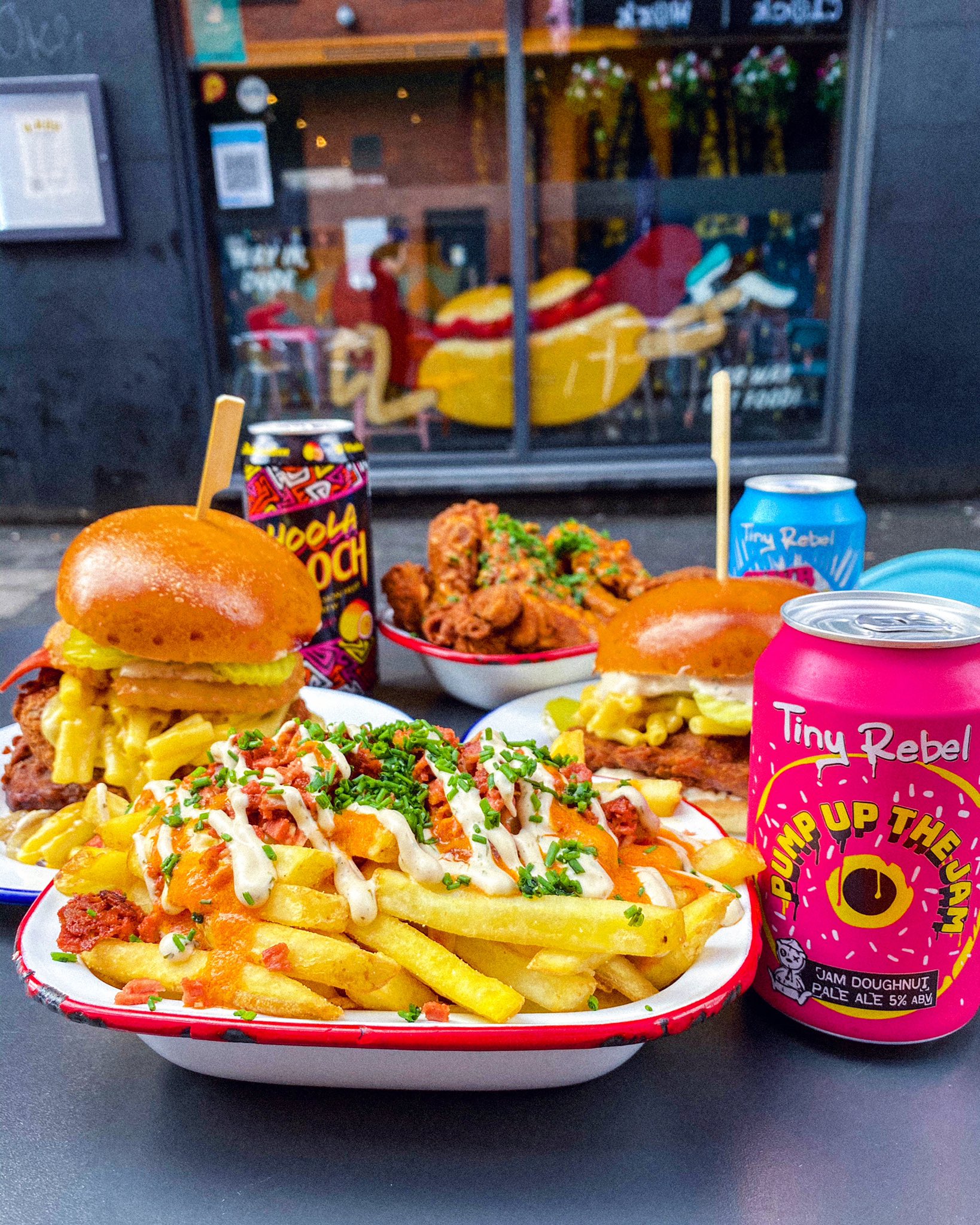 V Rev Vegan Diner
This lockdown, V Rev have launched their takeaway offering available via Deliveroo and click and collect. You can even customise your burger, adding on extra patties, mac and cheez or baecon for when you need a massive vegan feast.
Vertigo
Vertigo's Royal exchange and Media City sites have remained open in the second lockdown with a slightly reduced menu. There's still all day breakfast and a selection of dried goods, fresh fruit and veg as well as bread available. They've recently launched all sorts of hampers from Festive (£38.50) to Italian (£28.50) and even their Pamper Hamper (£32.50). Find out more on their socials below.
Oke Poke
The Northern Quarter's answer to Hawaiian food, Oke Poke now have delivery available via Deliveroo where you'll find most of their menu. Vegan top picks include the Buddha Bowl, Tofu Tastic as well as their juices, smoothies (including bowls), infusions and vegan, gluten-free and no refined sugar cakes.
Wholesome Junkies at General Store
After closing their store in Arndale Market, Wholesome Junkies have now launched both takeaways via Deliveroo and Uber Eats and pick-up services from General Store as part of their Scrancoats daily street food pop up.
Escape to Freight Island
Available via Escape to Freight Island's home delivery service, you can get the likes of Spicy Fried Tofu Burger and Celeriac Shawarma from Plant Grill. There's also Beyond Meat Burger from Patty Queen available too.
Giuseppe's Not Sloppy, He's Vegan @ Crazy Pedro's
Not strictly vegan but there is one banging vegan option for you to get your pizza fix, Giuseppe's Not Sloppy, He's Vegan. It's topped with hot spiced (not) beef, green peppers, onion, jalapeño, vegan cheese and tomato.
My Thai
The Northern Quarter branch of My Thai has plenty of vegan options so you can get your Thai fix including Pad Thai, Yellow Curry and Sweet and Sour Tofu to name a few. There are also veggie spring rolls, tofu served with peanut sauce and veggies served with sweet chilli sauce to start too.
Dishoom
Whether you fancy a delivery of hot food or want to build it yourself, Dishoom has got you covered. The menu has plenty of vegan options of the popular Bombay comfort food. Plus they've recently launched the Vegan Sausage Roll Naan Kit.